It's Monday! What Are You Reading? a place to meet up and share what you have been, and are about to be reading over the week. It's a great post to organise yourself. It's an opportunity to visit and comment and er… add to your growing TBR pile! This meme started on J Kaye's blog and then was hosted by Sheila from Book Journey. Sheila then passed it on to Kathryn at The Book Date.
---
This past week, I've not done that much to anything exciting and as I've just started my new job (!!) and my birthday is this week, so the partying and socialising commences on Friday – haha.
This week I've watched 2 movies – Captain Marvel and Us. I adored Captain Marvel with my whole heart and cannot wait to have my own copy when it comes out on DVD. It was so empowering and feminist but in a way modern media could swallow, it was also hilarious and Brie was great (5/5). Us – on the other hand I did enjoy but I found it a bit more slow and sinister than I expected going into it, but it was so unique and intriguing and so different to any other horror film I've watched – and that's saying a lot because I've seen the majority of them all! (4/5). Both of these featured either diversity or someone in a main role who usually isn't and to me it shows how important representation is – as watching Captain Marvel (as with Wonder Woman) I felt acknowledged and valued in society, and there was a girl in the cinema and she seemed so happy and it just shows how important things like this are.
The rest of this month I'm hoping to watch Avengers: End Game, Pet Sematary, Dumbo, Five Feet Apart and After.
---
What I Read Last Week
I read quite a few books last week including: Something Like Normal (off my April TBR) – I wasn't too impressed with this one, I found the writing fine but I didn't really connect to any of the characters and as the book was more an emotionally driven story it didn't really hit it's mark with me. I did find the mentions of grief and PTSD was really great and tackled well. Then, I read Because You Love To Hate Me – another okay book for me – I loved the idea of the book and some of the authors stories were great, but I found others really missed the mark and I felt the booktubers contribution wasn't needed though I found it was great they were included! The last book/novella I read was The Mirror & The Maze – this was to prepare me for the final book in The Wrath & The Dawn duology, and I'm honestly just so excited to continue on with the story after the first one being a 5/5 for me.
---
What I Am Reading Now
Currently I am reading this modern retelling of Jane Eyre – not sure how I feel about it so far.
---
Up Next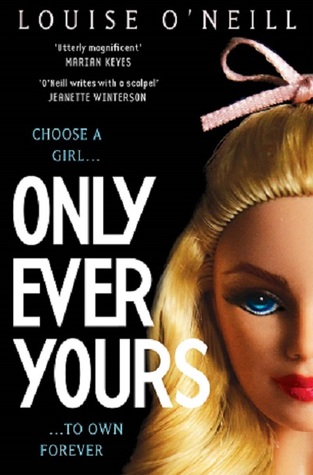 Only Ever Yours is up next as it's one of my April TBR picks and I'm super excited to get to this as my sister has read it and she adored it.